Sündmus sündmus on möödas
Yu-Gi-Oh!: Speed Duel Nights
24/05 @ 18:00

-

21:00

|

Recurring Sündmus

(See all)

An event every week that begins at 18:00 on Kolmapäev, repeating until 31/05/2023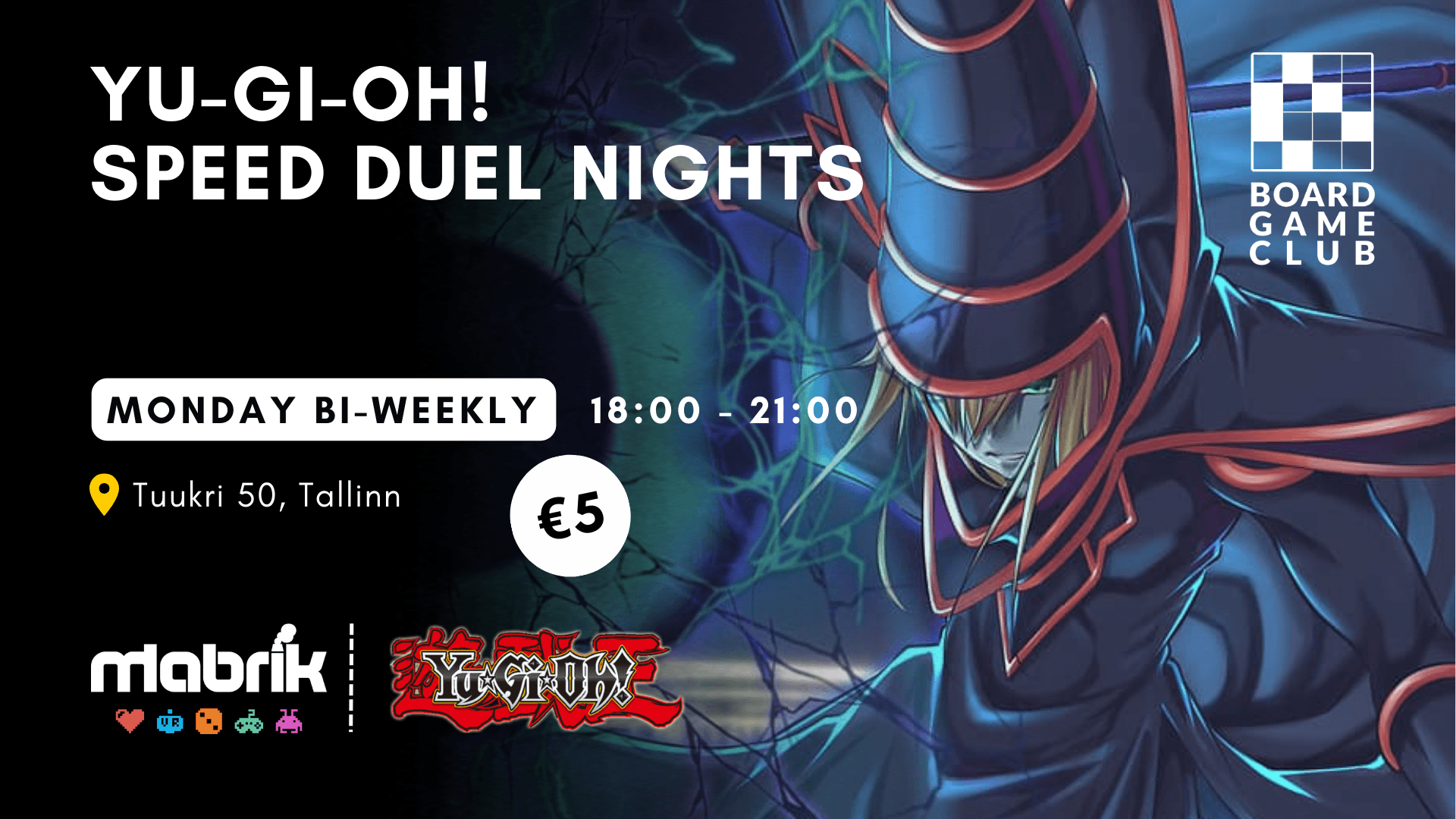 Yu-Gi-Oh! is an exciting universe based on a card game played with Monsters, Spells, and Traps.
---
Deck Construction
Each player begins with 4000 LP (Life Points). If your LP hit zero, you lose!

If you have Fusion Monsters (purple cards), like Thousand Dragon, place them in the Extra Deck zone.

Your Deck needs to contain between 20 and 30 cards. Your Extra Deck, if you have any Fusion Monsters, can be between 0 and 5 cards.

Shuffle the cards in your Deck together before the Duel (but not your Extra Deck).

You can't have more than 3 copies of the same card in your Deck.

Each player chooses 1 Skill Card before the Duel and places it face-down in front of them.

Flip a coin at the start. The winner gets to choose to go first or second. If you go first, don't draw a card




on your first turn.

Each player draws the top 4 cards from their Deck for their starting hand.
Tournament Structure
Entry Fee €5 This can be settled on location by cash or card payments.

Doors will open at 12:00.

Game one starts at 18:15 on the dot.

Game rounds are 40 minutes with 5 minute breaks between rounds.

Format: Tier 1 – Swiss

Deck Format: Speed Duel

The event is capped at 30 people. 

The number of rounds of swiss will depend on how many people participate in the event.
Prizes
The entry fee will be put into the pot and distributed out to the top 8 as store credit.
Bonuses
As an added treat there will be a 5% discount on all Yu-Gi-Oh related products during the event available only on location.

Additional promo cards will be given out based on standings and stock levels.
House rules
Drinks & snacks are available on location and outside sources are not permitted.
Related sündmused